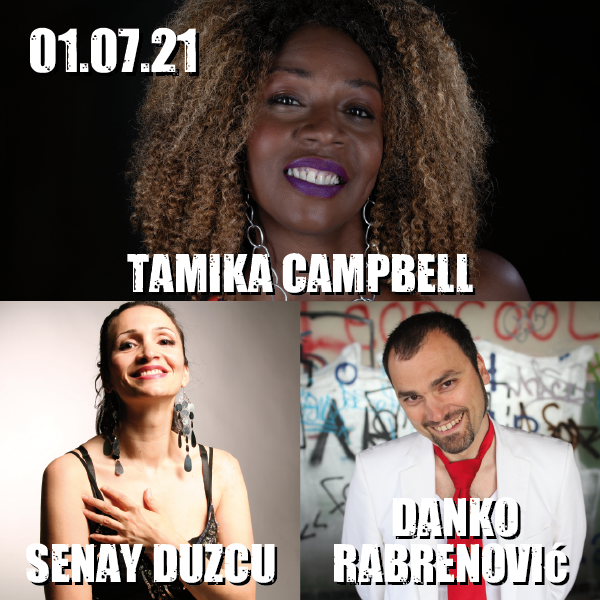 Senay Duzcu
"Hitler was a Turkish woman?"
A non-German fellow citizen once called her "Hitler!" in response to her requesting to him park his bike properly in order for other passengers to be able to board the train they were on. But all Senay Duzcu really wants is to properly make herself feel at home in Germany. One time when she was just getting ready for a show and one of her fake lashes accidentally flew from her eye to her upper lip it suddenly hit her: – Sometimes you might not want to adapt too much. –
The comedian has been on numerous TV shows including "Satiregipfel" and "Ladies Night".
Website: https://senay.tv
Facebook: https://www.facebook.com/senaycomedy/
Instagram: https://www.instagram.com/senayduzcu/
Tamika Campbell
"Straight outta Campbell"
Born in New York, Tamika takes the audience on a trip down memory lane and right through her eventful life. In doing so she reveals all the absurdities, contradictions and banalities of everyday life. She never takes the easy path and never limits herself to the given. Campbell faces all kinds of barriers while keeping her strength and love and never playing the victim – no matter how many obstacles might be put in her way. She masters the German language despite all of its inconsistencies and peculiarities.
Facebook: https://www.facebook.com/TamikaCampbellComedy/
Danko Rabrenovic
"Solo & Alone"
Danko Rabrenović is back on tour. This time he wants to find a brand new form of expression, somewhere between concert, reading, stand-up and revue. "Solo & Alo- ne" . However, his topics remain the same: language, exile, identify, culture shocks, sense of belonging, nationalism, integration, immigrant backgrounds and other di- seases/disabilities. The musician, author and WDR radio host was born in Zagreb and grew up in Belgrade, before coming to Germany shortly after the outbreak Yugo- slav war. In 2018 Rabrenović and his ska-punk band "Trovači" celebrated their 15th stage anniversary.
Website: https://www.danko-rabrenovic.de
Facebook: https://www.facebook.com/derbalkanizer/
Instagram: https://www.instagram.com/ex.balkanizer/
Photo: Senay Duzcu / Credit: Jürgen Wegner
Photo: Tamika Campbell / Credit: Tamika Campbell
Photo: Danko Rabrenović / Credit: Dobrivoie Kerpenisan