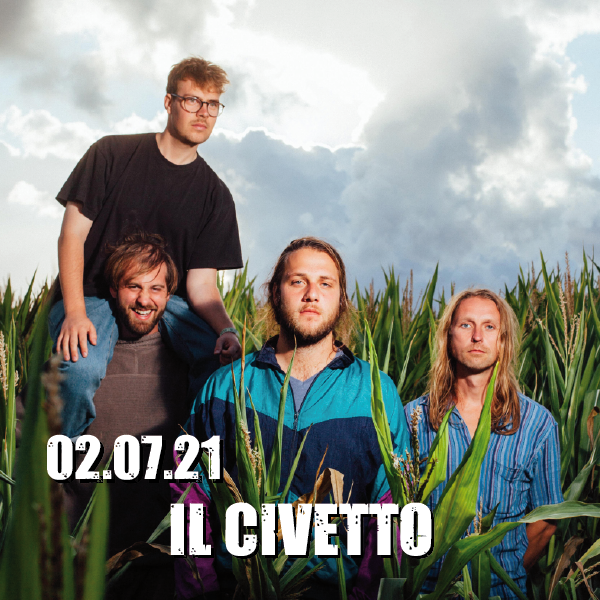 Il Civetto
Profound Global Pop
Ever since they released their debut album four years ago, their fanbase has been growing steadily. The word has spread, that Il Civettos concerts are captivating and somewhat magical. An ecstatic and contemporary musical adventure. Music that makes you dance regardless of whether you listen live or on record. After many times of touring Germany, 300 concerts in total, and appearances at festivals like the MS Dockville, the Fusion Festival, the Montreux Jazz Festival, the 3000° or events like the Anti-G20 protests in Hamburg, they delight an international audience from Istanbul to Copenhagen.
Il Civettos journey began in 2019 on the Berlin subway using quite the guerrilla tactics: Bribing securities with kebab before playing their music to passengers. Playing in venues like "Kater Holzig", "Ritter Butzke" or "Sisyphos" they basically grew up in the Berlin club scene and have achieved an impressive track record ever since publishing their debut album in 2015.
In 2019, they released their second album called "Facing the Wall", which was written in Morocco, Greece and Andalusia is sung in English, German and French and was recorded in Berlin. With great attention to detail, the band has, once again, mastered transferring their magical performance from the stage to the studio.
"Facing the Wall" is a deeply touching piece which reflects the spirit of our time. It is the expression of a generation that finds itself at the centre of change. A generation that is searching for more. It is an album ranging between euphoria and melancholy. It is indulging, it is sweating, it is dancing with butterflies in your stomach and your eyes wide open. Il Civetto have become calmer and, in some way, more real while remaining true to their own self and their characteristic sound. Deeply touching yet irresistibly danceable.
Website: http://ilcivetto.de
Facebook: https://www.facebook.com/ilcivetto
Instagram: https://www.instagram.com/ilcivetto/
YouTube: https://www.youtube.com/channel/UCD6C87DbdWUJaWNuWIc3aSg
Photo: Il Civetto / Credit: Moritz Haase